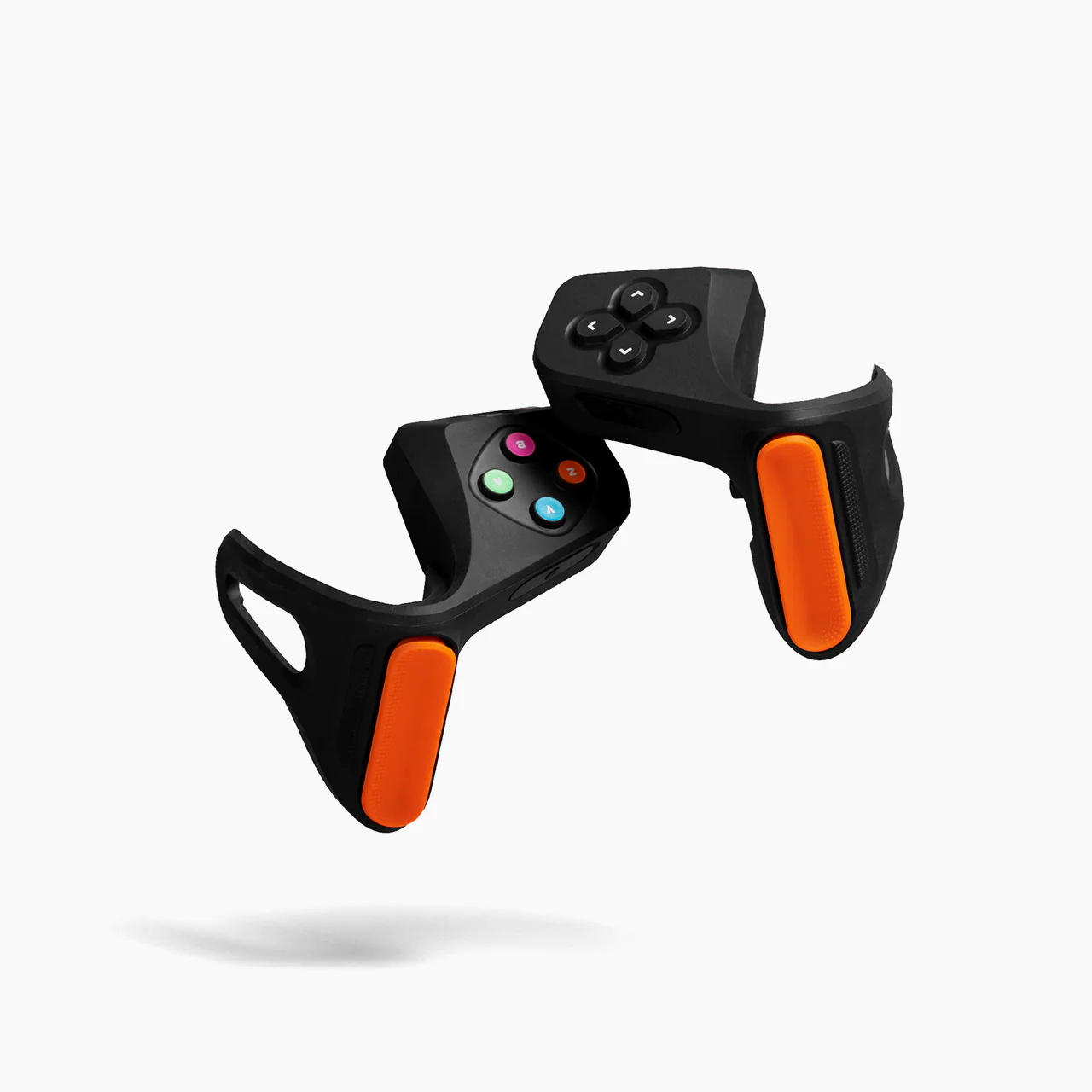 Zwift Play controllers
If you've reached this page through your favourite search engine, you've probably got a Wahoo Kickr Bike and wondering how well the Zwift Play, er, plays with it. So I'm going to assume a good amount of upfront knowledge about Zwift, Zwift Play and the Wahoo Kickr Bike, and skip to the interesting bits.
Here are the specifics for people, like me, using Zwift Play on a Kickr Bike v2:
You can pair both the Kickr Bike and Zwift Play controllers to control steering. This means you can still use the Kickr Bike buttons to steer, u-turn, or use a power-up, if you prefer. It's nice to have the options.
Braking using Zwift Play only brakes in Zwift. You can tell when you've done it because a red rear light comes on. It doesn't slow the Kickr Bike's flywheel.
Braking on the Kickr Bike doesn't make you brake in Zwift – it just slows the flywheel down. So that means no change there.
I found the Zwift Play somewhat tight to get onto the handlebars, I guess at least partly because I have relatively thick (2.5mm) handlebar tape installed instead of the Wahoo-supplied tape. The flipside of that coin is the controllers are incredibly stable once on.
The Zwift Play controllers didn't interfere physically with the gear buttons. I had to make more of a mental adjustment to remember to move my fingers between the gear buttons and the Zwift Play steering/braking levers.
General first impressions of Zwift Play:
It's liberating to be able to control Zwift with on-bike controllers. Surprisingly so. Once I got Zwift started up, it was nice to be able to keep my hands on the handlebars while navigating the Zwift menus and in-game. I usually have a keyboard and trackpad next to me to control Zwift but I don't think I'll need those any more.
Giving Ride Ons is so much easier with Zwift Play, especially returning them. When I've wanted to return a Ride On from someone near me, it's previously been a hurried faff to reach my hand to my trackpad, hastily find out where the cursor is, and then manoeuvre it to hit the little thumbs-up icon. It's not uncommon for me to miss. Even if I'm Zwifting on my iPad, it's still somewhat a faff to try and hit that thumbs-up icon accurately. With Zwift Play, I get a prompt when someone gives me a Ride On to hit the Z button to return it. So without taking my hand off the handlebar, and without needing to look, I just hit the Z button. And that's it.
Similarly, Ride On bombs are easy to give, simply by holding down the Z button for a few second.
I no longer feel like I have to have my iPad attached to the front of my bike to control anything once I've started. This means I get the full benefit of my fan, which is on the floor (it's a Kickr headwind), on my body without the iPad blocking some of the flow.
Navigation is pretty intuitive and it's a shallow learning curve.
The Zwift Play LEDs are meant to stay a constant blue when connected, but they kept flashing when I was using them. It was more annoying than I expected.
As a Kickr Bike owner, I'm not sure I'd buy these at the proposed

RRP

of

£149

, because I mainly care about easy access to power-ups and steering, which I get with the Kickr Bike anyway. But the current 'beta' pricing of

£99

is decent and I'm pleased with my purchase.